TWD Season 11 Trailer: The Walking Dead season 11 trailer is released now. One of the longest running and most celebrated TV show TWD season 11 is about to release on 22 August, 2021 on AMC and AMC+. The trailer came just after the comic-con convention of the franchise.
The trailer of The Walking Dead aka TWD features main characters like Negan (Jeffrey Dean Morgan), Daryl Dixon (Norman Reedus), Maggie (Lauren Cohan), Carol (Melissa McBride), Eugene (Josh McDermitt), Father Gabriel (Seth Gilliam, Aaron (Ross Marquand), Ezekiel (Khary Payton) and others too.
Mercer, the new villain: After watching The Walking Daed trailer the hot question is who is that villain in red-suit? It's Mercer! Michael James Shaw portrays Mercer, a Commonwealth soldier. While not a member of Palpatine's personal guard, Mercer's armored red suit implies he is in command of the Commonwealth's military force, effectively directing the infantrymen dressed in white.
This character hasn't been confirmed for the TV show, thus Mercer's employer might be someone different completely in live-action. As Mercer's look is fully comic-accurate, many fans will be happy to discover that. The crimson coat of armor is practically a literal translation of his comic-book attire, and even the haircut and beard are very accurate.
The most chilling part of the trailer is, it introduced new villain or should I say gang of villains, similar to Negan's gang in season 7, but a thousand times more organized and vicious. It's Mercer from the The Walking Dead original comics. The character of Mercer is played by Michael James Shaw. However, we couldn't see Rick Grimes as we all knew already. Although Rick Grimes will be back with The Walking Dead movie series. The makers have already confirmed that there will be 3 Rick Grimes movies.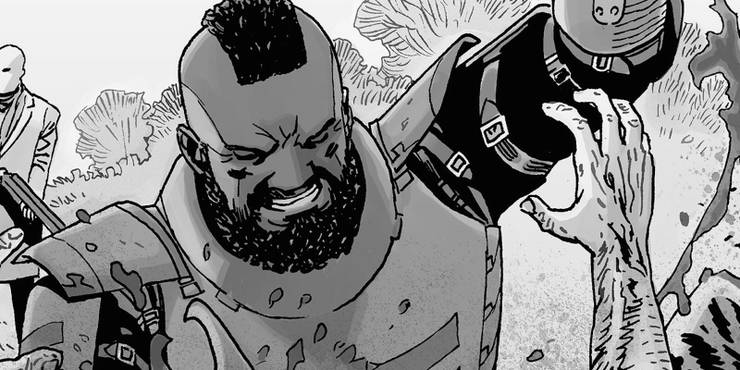 The Walking Dead's season 11 teaser purposefully paints Mercer in a negative light, but there's more to the character than just being a monster. According to Mercer's storyline, the soldier is torn between the obligations he has as a Commonwealth official, and his own moral convictions.
An American post-apocalyptic horror series on AMC, The Walking Dead's eleventh and final season is slated to begin on August 22, 2021. It will consist of 24 episodes. The series was created by Frank Darabont for television and is based on Robert Kirkman, Tony Moore, and Charlie Adlard's comic book series of the same name. Kang is the showrunner for her third and final season, with David Alpert and Scott M. Gimple serving as executive producers. Greg Nicotero, Joseph Incaprera, Denise Huth and Gale Anne Hurd are also executive producers.
Related: https://timesread.com/category/tv-shows
"The Commonwealth" is a huge network of communities that has sophisticated equipment and nearly fifty thousand survivors living in their separate communities. This season will adapt content from issues 175–193 of the comic book series.
When it comes to platonic relationships, it was Rick Grimes who Mercer grew to admire the most in the comics. Ahead of the departure of Andrew Lincoln, it'll be intriguing to watch who Mercer falls in love with instead. Daryl Dixon would be the obvious choice, but Carol and Yumiko also play significant parts in the TV series. Norman Reedus' character may have more in common with Mercer than Reedus' character does.
Now, time for The Walking Dead Trailer:
Fans have been waiting for Mercer to appear in The Walking Dead comics since the show's 11th season, which marks the end of an era but not the end of the franchise. There was so much anticipation around Elijah's arrival that many thought Mercer was Elijah before Maggie disclosed his actual identity. It's important that The Walking Dead give Mercer justice now that his season 11 debut is so close. In the trailer, he certainly makes a nice first impression.